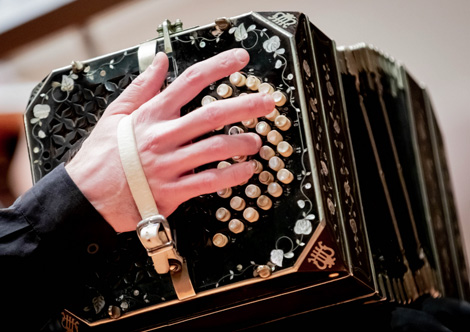 MASTER CLASS
with OMAR MASSA (Bandoneon)
on the topic of:
Stylistic particularities of the music of Astor Piazzolla
Saturday, May 18th, 2019
Start time: 10:30 am
At the Argentine Embassy
Kleiststraße 23 - 26
10787 Berlin
Language of instruction
English

Registration for both active and passive participation is required under:
fleischhauer@pantonale.com
Due to the high demand, the application deadline has been extended until May 17th, 2019!
The internationally renowned bandoneon player Omar Massa is referred to as Astor Piazzolla's successor by music critics.
His Master Class is open to all instrumentalists who have prepared a work by Astor Piazzolla. Both students and professional musicians are welcome to participate. The number of participants is limited to 6 active players. Each of them has a course time of 20 - 30 minutes with the master. The number of passive participants is unlimited, however, registration is required.