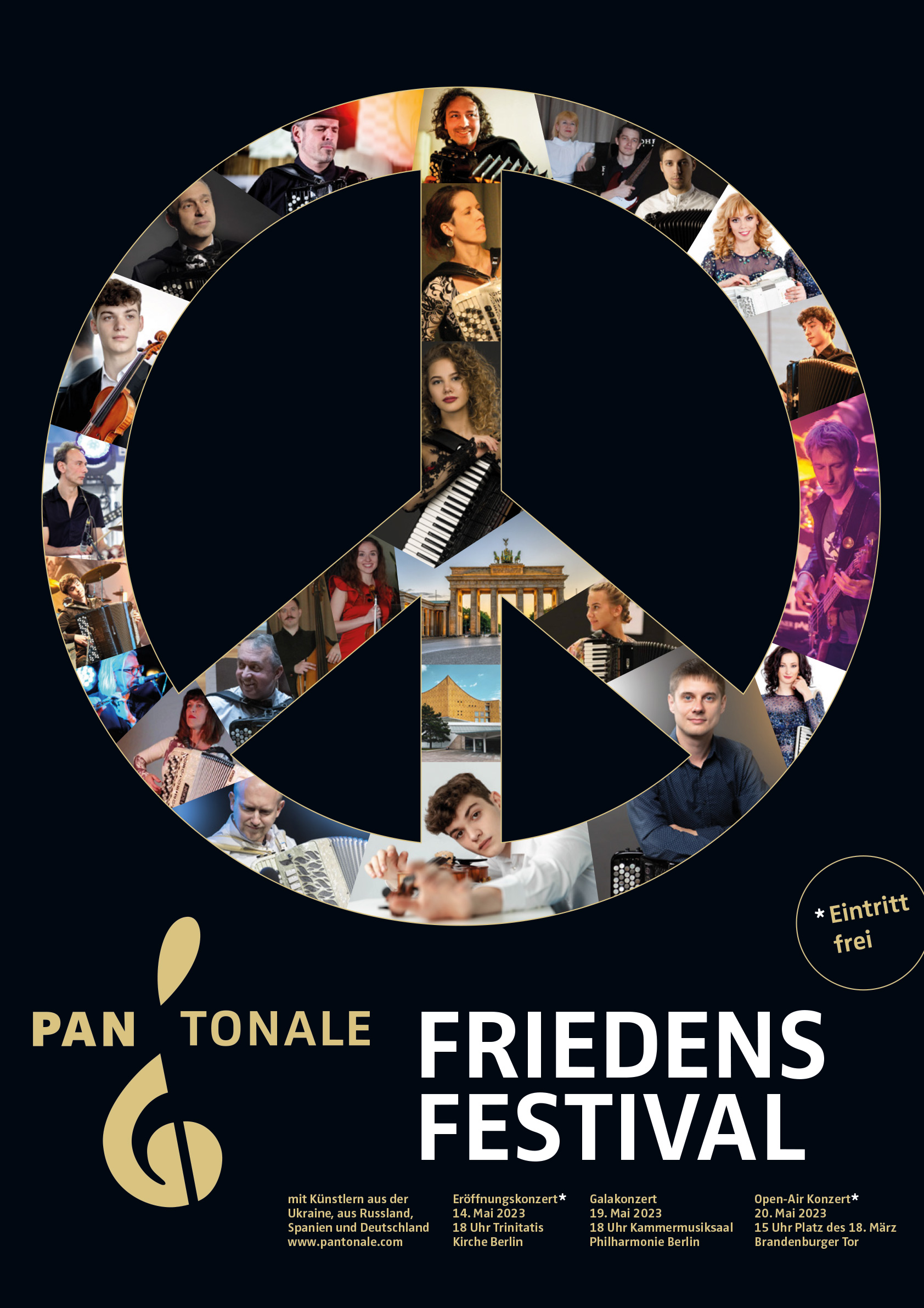 The non-profit association PANTONALE e.V. is organising its 9th International Accordion Festival in Berlin again this year as a Peace Festival. The festival aims to once again celebrate the versatility and sonority of accordion music and is under the trusted patronage of Senator for Culture and Europe.
From May 15th to 20th, 2023, musicians from Ukraine, Russia, Spain and Germany will play music in Berlin refugee camps, retirement homes, schools and concert halls. The high point is a gala concert in the chamber music hall of the Berlin Philharmonic on May 19th and an open-air concert at the Brandenburg Gate on May 20th.
The Spanish composer Gorka Hermosa dedicated his latest work "Peace Dream" to our festival. The three-movement piece is based on traditional Ukrainian "Веснянка" and Russian "Утушкалуговая" and reflects love, war, struggle and hope for a better future. Accompanied by strings of "Neues Kammerorchester Potsdam", the composer will perform his own work with Russian accordionist Anna Kolovska and Ukrainian accordionist Dmytro Zharikov.
Anna Kolovska and Dmytro Zharikov also perform Arturo Marquez's "Danzon No. 2" in a transcription for piano, double bass and percussion by Yuri Shishkin. Dmytro Zharikov will perform the famous work "Balkan Tango" by Dražan Kosorić in a new arrangement by the author and composer with string quintet, piano, marimba and percussion. Anna Kolovska will also perform with her husband Aleksandar Kolovski.
Volodymyr Murza, Honoured Artist of Ukraine, has confirmed his participation together with "KVINTANGO". The quintet will inspire the audience with its tango show "Summer Tango Night" – a real firework of emotion and passion to the rhythm of tango.
German star accordionist Uwe Steger performs "Spring" and "Summer" from Rene Moeckel's "The Seasons", accompanied by strings of "Neues Kammerorchester Potsdam". Andrea Cicalese and Antonio del Castillo present three movements from the Sonata for violin and accordion by Mikołaj Majkusiak in a new arrangement by the composer with string ensemble.
Russian pianist and composer Dmitri Pavlov will perform his work "Paradise" together with the multifaceted multi-instrumentalist Volker / Holly Schlott on the flute.
Russian accordionist Eduard Akhanov, who already won the hearts of the audience at the 2022 PANTONALE Peace Festival, is coming up with two world premieres this year: he himself will perform his jazz suite for piano, bass and drums, which he composed under the impression of the journey to Berlin for last year's PANTONALE Peace Festival. The work "Impulse", also composed by Eduard Akhanov, will be performed by the award-winning Russian duo "LyubAnya".

Festival Highlights
Sunday  |  14 Mai 2023  |  6 pm
Opening Concert at Trinitatiskirche Berlin
Admission free, donations welcome
Friday  |  19 May 2023  |  6 pm
Gala Concert in the chamber music hall of the Berlin Philharmonic
Ticket sales here
Saturday  |  20 May 2023  |  3 pm
Open Air Concert at the Brandenburg Gate
Admission free
These videos give an impression of our last year's Peace Festival:
Friedensfestival Gala-Konzert 2022 – Teil 1
Friedensfestival Gala-Konzert 2022 – Teil 2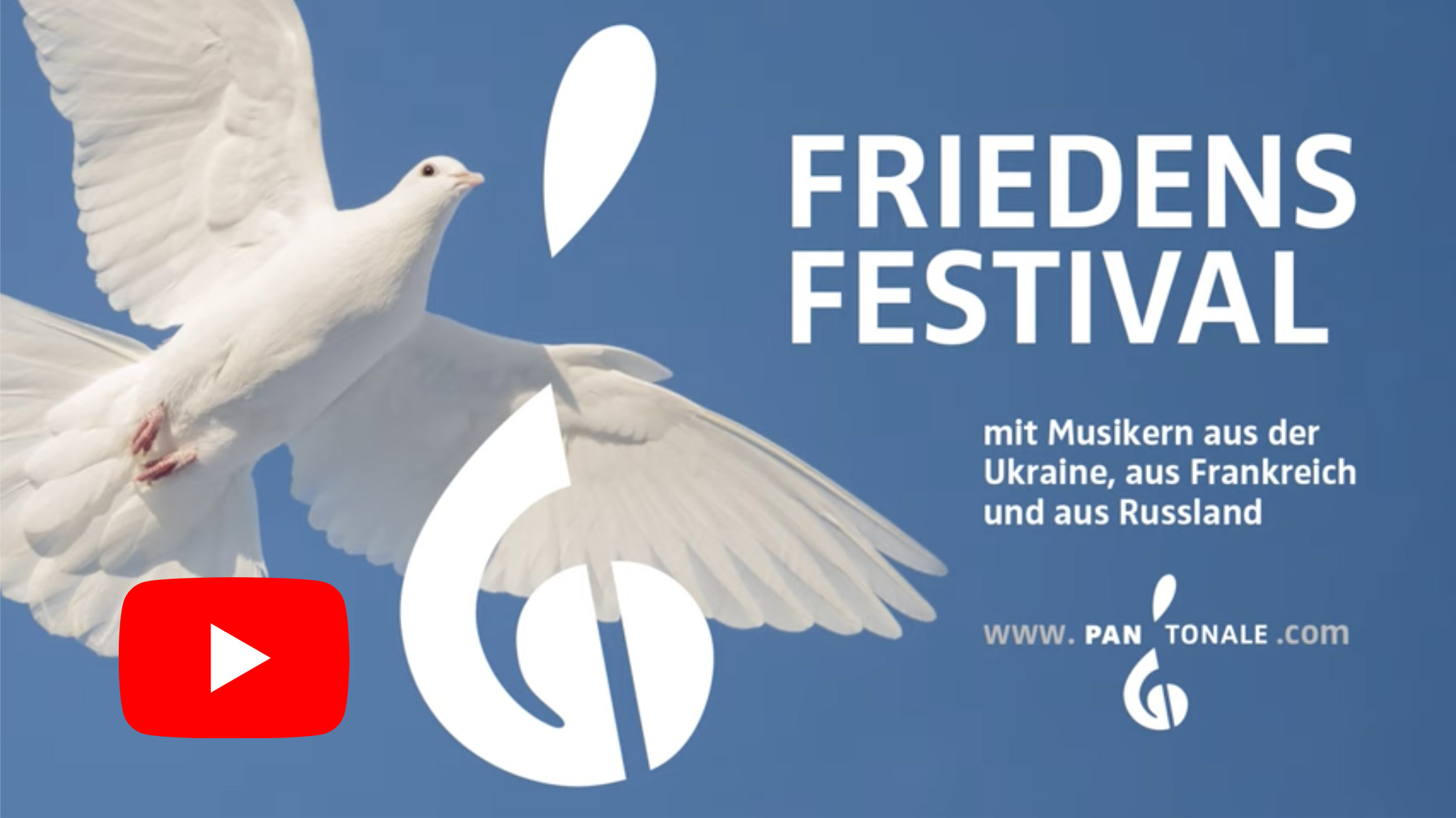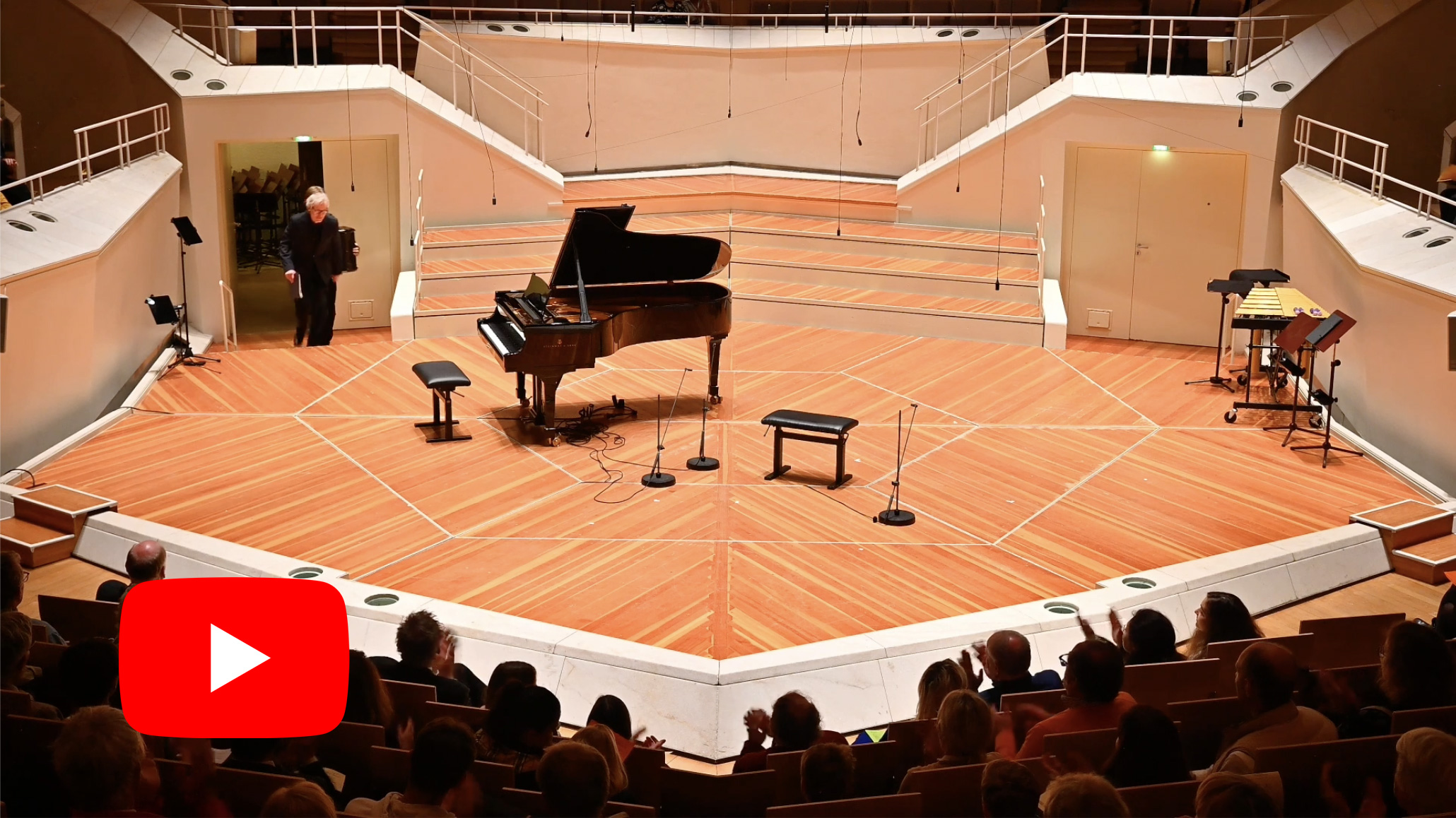 Das gesamte PANTONALE Friedensfestival steht unter der Schirmherrschaft des Senators für Kultur und Europa.


Sponsored by

Project Partners
Media partners
Also sponsored by